A beginner's guide to creating designs with double-page spreads in ZOOMstudio Smart Layouts.
Step 1: Log into ZOOMstudio and launch Smart Layouts
Log into your ZOOMstudio
From the ZOOMstudio Start Screen, click on "Make it Quck"
Give your design a name and click "Save"
Step 2: Set up your cover page
The first page of a catalog or lookbook should be a cover page. Change the layout of the first page in your design to the Cover Page layout.
Click on "Manage Page" in the upper right corner of the editor
Click "Change layout"
Find the Cover Page layout and click "Use Layout"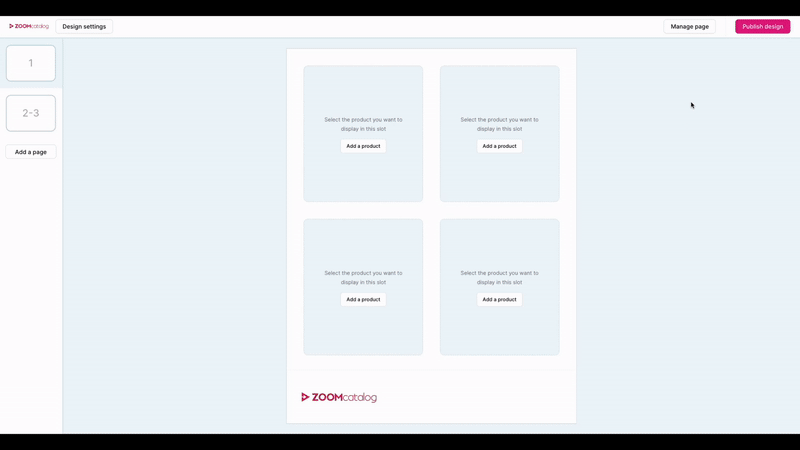 Step 3: Customize your cover page
Now that you have a cover page, you can personalize it by adding a title and image.
Click "Add Image" and pick an eye-catching photo for your cover
Upload your own: Upload images by clicking "select a file from your computer"
Find a stock image: Use the drop-down in the top corner and switch to "Unsplash". Enter a keyword in the search bar to find the perfect image for your design and click "Select"
Click "Click to add title" and enter a title in the field on the right side menu
Step 4: Fill out the rest of your design
Add double-page spread pages to build the rest of your catalog or lookbook.
Click "Add a page" on the lefthand side of the page
Choose the "Spread page" option
Add products by clicking "Add a product" in each product block
PRO TIP: Change the layout of any page in your catalog to add variety and interest to your catalog by changing the page layouts.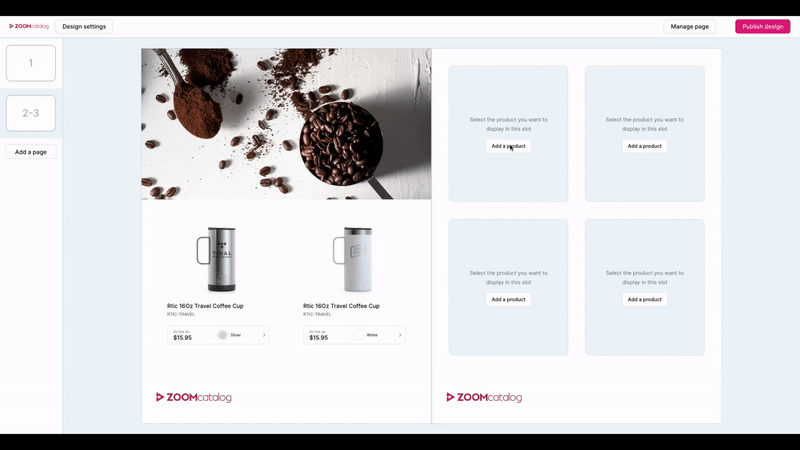 Step 5: Add a back cover
Click "Add a page" on the lefthand side of the page
Choose the "Single page" option
Click on "Manage Page" and change the layout to "Cover Page"
Choose a final image
Add your contact information and/or website in the title field
Step 6: Publish and share your catalog
Publish your design and get a shareable link to share with customers.
Click "Publish design" in the upper right corner
Click "Yes, Publish"
Click "Share" in the upper right corner
Click "Copy shareable link" and paste it into a new browser tab to preview. If you are happy with your design, paste and share it with your customers!
PRO TIP: Make changes and update your design any time you need! Simply find your design in "My Designs" on the ZOOMstudio Start Page. Edit as needed, and "publish changes". Anyone with your shareable link will see the changes that you publish.
How to Make Your First Lookbook or Catalog
More Smart Layouts Tutorial Videos